Advanced Dental Technology - Wethersfield, CT
Modern Dentistry That Makes A Difference
The world of oral healthcare is constantly changing and evolving for the better, which is why Dr. Phadnis and her team make every effort to stay up-to-date with the latest developments. Our dental office is paperless and all-digital, and we use several advanced technologies on a daily basis to make important treatment more comfortable, efficient, and precise for the patient. Keep reading below to learn more, or contact us today in Wethersfield, CT to schedule a first visit.
Intraoral Camera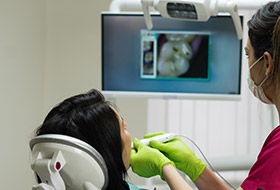 Intraoral cameras provide essential insight into dental health when performing diagnostic care, and they're also a highly valuable educational tool that Dr. Phadnis regularly uses to shed much-needed light on common concerns and potential treatment solutions for interested patients. The handheld device is maneuvered through the mouth so that it can capture a series of high-resolution images that are transferred to a nearby monitor. Even tricky areas that may not be accessible with the naked eye alone will be revealed clearly.
Digital X-Rays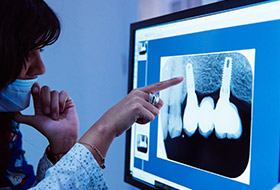 Modern digital radiography is superior to traditional film X-rays in numerous ways. For instance, our team no longer has to wait hours for X-rays to develop slowly in a darkroom – these highly detailed images are instead available for viewing within seconds, and they can even be color-coded and magnified through our state-of-the-art computer system for educational purposes. Better yet, any radiation exposure is dramatically minimized for a much safer diagnostic experience overall.
Biolase Soft Tissue Laser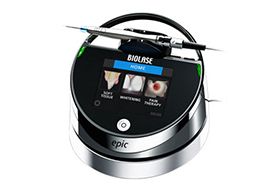 Lasers are swiftly becoming the future of dental care, especially when it comes to treating soft periodontal tissue. Our dental office regularly uses the Biolase soft tissue laser to perform gum disease treatment, aesthetic recontouring, and more with exceptional precision and comfort. Common post-operative symptoms, such as oral swelling or bleeding, are dramatically minimized with this modern care approach, and patients can expect a briefer recovery period as well. Many don't even require local anesthesia to feel at ease throughout the procedure.
Trios Digital Impressions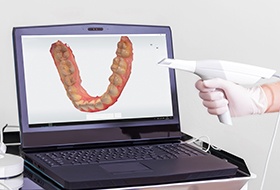 Many patients can remember sitting still in the dentist's chair and having to hold their mouth in one position while uncomfortable putty material was pressed over their teeth for minutes on end. What's worse is that the process doesn't even always yield accurate results, which can lead to time-consuming retakes and ill-fitting restorative work. Thankfully, our practice has invested in Trios technology for a smoother, more pleasant, and contact-free impression experience. Now, all it takes to form a comprehensive, accurate impression of teeth is a few digital scans of the mouth.