Meet the Dental Team
At Wethersfield Dental, Dr. Phadnis is very proud to have the ongoing support of such a dedicated and knowledgeable team. You and your family will quickly become acquainted with all of their friendly faces, whether you're checking in at the front desk or getting settled into the treatment chair for a cleaning. To learn more about each unique staff member, keep reading below:
Dhara, Clinical/Insurance Coordinator
Dhara's job is to make taking care of your teeth nice and easy! She'll help you plan your treatments so that your appointments fit seamlessly into your schedule, and she can also answer any questions you might have about using your insurance. Dhara received her dental training at Dharamsinh Desai University in Nadiad, India (she has a bachelor's degree in dental surgery!), and she is currently taking classes at Quinnipiac University. Dhara is a big music lover who likes to sing, and she enjoys spending her free time hiking and hanging out with her family. In the not-too-distant future, she looks forward to enrolling in dental school.
Stephanie, Lead Dental Assistant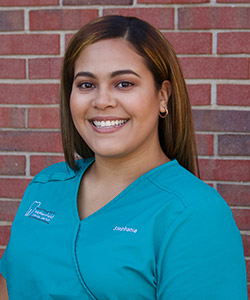 Stephanie grew up in Wethersfield and graduated from the dental assisting program at the Porter & Chester Institute. She is certified in radiology, infection control, and CPR. She plans to further her education and become a board-certified expanded function dental assistant in the near future. Her friendly chairside manner helps our patients feel completely relaxed and comfortable during their visits, and she finds great satisfaction in being able to give patients the smiles they want and deserve. Stephanie also loves to give back to her community and regularly volunteers at the Mission of Mercy dental clinic. Outside of dentistry, she enjoys traveling the world with her family and friends as well as going on nature hikes with her dog, Shamu.
Amy, Dental Assistant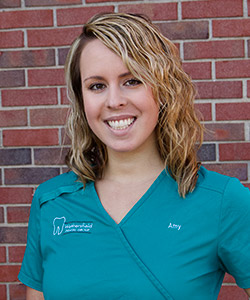 Amy has been a part of the Wethersfield Dental Group team since November of 2017, and she has 4 years of dental experience overall. She grew up in South Windsor and attended dental assisting school at the Porter & Chester Institute. Currently, she is taking classes at Goodwin College and hopes to become a dental hygienist in the next couple of years. She loves meeting and getting to know new people, and her goal every day is to help our patients feel as comfortable as possible while they receive their necessary dental treatments. When she's not working, she likes to travel, swim at her lake house, and exercise.