Invisalign® Clear Braces – Wethersfield, CT
The Clear Path to a Straighter Smile
Many adults with crooked teeth think that orthodontics is something only children can get, and they just can't imagine going to work with a mouthful of metal brackets and wires. However, at Wethersfield Dental Group, we now have a solution that is perfect for adults and teens alike—Invisalign! Now, you can fix your crooked, crowded, and gapped teeth without having to sacrifice your daily appearance in the process.
Why Choose
Wethersfield Dental Group

for Invisalign® Clear Braces?
Get straighter teeth without metal braces
Custom-made for a comfortable fit
Often able to work faster than traditional braces.
What is Invisalign?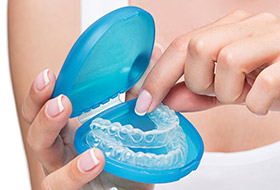 Invisalign uses a series of clear plastic aligner trays to gently move the teeth into their proper positions. Each tray is shaped to apply a small amount of pressure that brings a person closer to their ideal smile, and a patient will wear one set for about two weeks for 20-22 hours a day before moving onto the next. The trays will be custom-designed using a treatment plan formulated by Dr. Phadnis, and after a patient has gone through the entire series, they should have a perfectly straight smile looking back at them in the mirror.
Why Patients Love Invisalign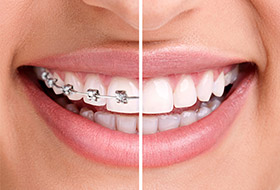 Subtle Appearance: The trays are thin and completely see-through, so no one will know you're wearing Invisalign unless you tell them. Most patients report that their friends and coworkers only notice something about their teeth after the treatment has been completed!
Comfortable Fit: Instead of having a bunch of irritating metal in your mouth, Invisalign is made of a smooth plastic that is custom-designed to fit over your unique teeth.
Convenient: Time to eat or brush your teeth? Simply take your trays out until you're done. This is a flexibility traditional braces simply don't have!
Speed: In many cases, Invisalign is able to straighten the teeth faster than metal braces. Most treatments take about 12-18 months, while braces usually require about 2-3 years!
Who is a Good Candidate For Invisalign?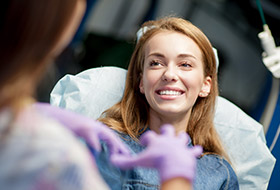 We typically only recommend Invisalign for adults and teens, as metal braces are better suited for the developing smiles of younger patients. Before you begin treatment, Dr. Phadnis will perform a complete exam to make sure Invisalign is the best way to give you the smile you desire.
To learn more about this treatment and get started on the path to straighter teeth, contact us today to schedule a consultation.
Invisalign FAQs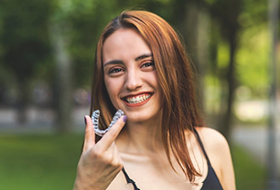 Now that you know more about Invisalign treatment and what you can expect from the results, you'll likely be eager to begin the process of straightening your pearly whites. Still, there may be certain aspects or concerns that you won't want to leave unanswered. To help you feel more comfortable and confident about this orthodontic solution, our team has collected several of our most commonly asked questions about Invisalign from our patients in Wethersfield. Keep reading to learn more or call us today to schedule your initial consultation.
How Long Does Invisalign Take?
In many cases, those undergoing Invisalign can expect to take 12 to 18 months to finish their orthodontic process. While this might appear lengthy, it's still four months quicker than the average timeframe for traditional metal braces. Remember that the amount of time involved with Invisalign can depend on various factors, including the complexity of your misalignment as well as your commitment to the treatment plan. Some patients who only have mild orthodontic problems might expect to complete their process in just six months. For severe cases, it can take a little more than a year.
Can You Eat with Invisalign?
You should never eat anything while wearing your Invisalign trays. This can easily result in complications such as chips, cracks, or stains on your clear aligners, potentially requiring you to get additional trays and paying more than necessary. Fortunately, Invisalign is removable, so you can simply take your trays out before eating or drinking anything (except for pure water). If you aren't wearing your clear aligners, be sure that you store them in their designated protective case so you don't lose them.
What Are Invisalign Attachments?
In the past, those who had mild cases of dental misalignment were considered candidates for Invisalign. Nowadays, dentists can provide attachments and buttons to help patients with more complex malocclusions or bite problems. Attachments are small, clear bumps that are bonded on the front of certain teeth with composite resin. These are meant to grip your teeth and guide them into place while wearing your clear aligners. Buttons, on the other hand, are designed to attach or support rubber bands to help those with bite issues.
What Happens After Invisalign?
Once you've completed your Invisalign process, you'll return to our office so we can verify that you've achieved your desired results. After we've confirmed that your pearly whites are properly aligned and your bite is perfect, we'll explain how to preserve your straightened smile with your new retainers. You'll need to wear them immediately to maintain your investment, but you'll simply have to implement the same routine as your Invisalign aligners. At first, you'll need to wear them all day every day, but you'll eventually change to only needing to wear them overnight.