Invisalign® Clear Braces – Wethersfield, CT
The Clear Path to a Straighter Smile
Many adults with crooked teeth think that orthodontics is something only children can get, and they just can't imagine going to work with a mouthful of metal brackets and wires. However, at Wethersfield Dental Group, we now have a solution that is perfect for adults and teens alike—Invisalign! Now, you can fix your crooked, crowded, and gapped teeth without having to sacrifice your daily appearance in the process.
Why Choose
Wethersfield Dental Group

for Invisalign® Clear Braces?
Get straighter teeth without metal braces
Custom-made for a comfortable fit
Often able to work faster than traditional braces.
What is Invisalign?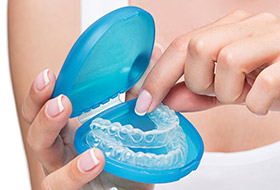 Invisalign uses a series of clear plastic aligner trays to gently move the teeth into their proper positions. Each tray is shaped to apply a small amount of pressure that brings a person closer to their ideal smile, and a patient will wear one set for about two weeks for 20-22 hours a day before moving onto the next. The trays will be custom-designed using a treatment plan formulated by Dr. Phadnis, and after a patient has gone through the entire series, they should have a perfectly straight smile looking back at them in the mirror.
Why Patients Love Invisalign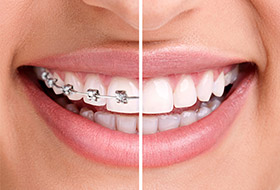 Subtle Appearance: The trays are thin and completely see-through, so no one will know you're wearing Invisalign unless you tell them. Most patients report that their friends and coworkers only notice something about their teeth after the treatment has been completed!
Comfortable Fit: Instead of having a bunch of irritating metal in your mouth, Invisalign is made of a smooth plastic that is custom-designed to fit over your unique teeth.
Convenient: Time to eat or brush your teeth? Simply take your trays out until you're done. This is a flexibility traditional braces simply don't have!
Speed: In many cases, Invisalign is able to straighten the teeth faster than metal braces. Most treatments take about 12-18 months, while braces usually require about 2-3 years!
Who is a Good Candidate For Invisalign?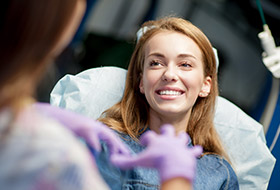 We typically only recommend Invisalign for adults and teens, as metal braces are better suited for the developing smiles of younger patients. Before you begin treatment, Dr. Phadnis will perform a complete exam to make sure Invisalign is the best way to give you the smile you desire.
To learn more about this treatment and get started on the path to straighter teeth, contact us today to schedule a consultation.