Porcelain Veneers – Wethersfield, CT
A Gorgeous New Smile In Just Two Visits
At Wethersfield Dental Group, we want to help all our patients feel good about their appearance when they look in the mirror. Regardless of the type of smile flaws you want to correct, we have a cosmetic procedure that will fit your needs perfectly. In fact, one of our most popular options is porcelain veneers which can completely change the shape, spacing, size, and color of your teeth in just a couple of appointments. And, as a cosmetic dentist in Wethersfield with advanced training and experience, you can feel confident that you'll get beautiful results from Dr. Phadnis. If you'd like to schedule a consultation or find out more about how porcelain veneers can help you, contact us today!
How Do Porcelain Veneers Work?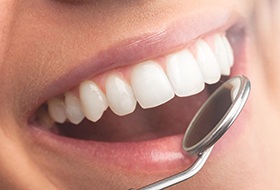 Porcelain veneers are thin, custom-made sheaths of porcelain that are adhered to the front surfaces of your teeth. They can correct multiple cosmetic issues at once and are designed to look very natural.
After a consultation to make sure they're right for you, Dr. Phadnis will remove a very thin layer of surface enamel to prepare your teeth. Then we'll take impressions (i.e. molds) and send them to our dental lab along with detailed instructions so the color, size, and shape of your veneers blend in perfectly with your smile.
It typically takes the lab 1 to 2 weeks to make your restorations, during which you'll wear temporary veneers. Then you'll return for a second visit to have your permanent veneers adhered into place, and Dr. Phadnis will make final adjustments as needed so that everything looks and feels great.
The Benefits of Porcelain Veneers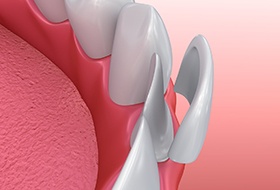 In addition to providing dramatic changes in just two visits, porcelain veneers also offer the following benefits:
They can correct multiple imperfections with a single procedure.
Porcelain is stain-resistant, so you won't have to worry about discoloration from coffee, tea, red wine, etc.
Porcelain also looks very natural because it reflects light the same way enamel does.
Porcelain veneers are durable and can last 10 or 15 years or more with proper maintenance. This includes seeing us for regular checkups and cleanings, brushing and flossing daily, wearing a custom-made nightguard if you clench and grind at night, and avoiding habits that can chip your veneers like chewing on ice, hard candies, pens, etc.
Who Should Consider Porcelain Veneers?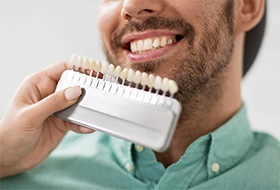 Porcelain veneers are an excellent option if you want to correct:
Chips and cracks
Worn down or uneven teeth
Small or oddly-shaped teeth
Minor gaps and crowding
Severe stains
Enamel defects such as pitting
It's also important to note that Dr. Phadnis will do an exam before making a recommendation to ensure that you don't have cavities, gum disease, or other problems that need to be addressed first.