Preventive Dentistry – Wethersfield, CT
How We Defend Your Smile
While Dr. Phadnis is able to fix virtually any dental problem you can imagine, she'd much rather help her patients avoid those problems in the first place! That's why she and our team provide such a wide variety of preventive services. With the treatments detailed below, we can reduce you and your loved ones' overall risk of developing pesky cavities or gum disease. To schedule an appointment so we can safeguard your smile, contact us today.
Why Choose
Wethersfield Dental Group

for Preventive Dentistry?
Happy to treat the entire family
Kind, friendly, & highly skilled team
We welcome all PPO insurance plans
Dental Checkups & Teeth Cleanings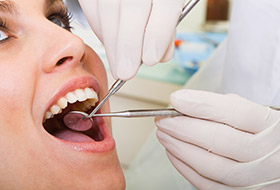 Whether someone is 3 or 93, we recommend that they should receive at least two dental checkups and cleanings each year. Many oral health problems don't present pain initially, but with our trained eyes, we'll be able to spot any early issues and take care of them right away. A dedicated cleaning from one of our hygienists can also thoroughly remove any plaque and tartar from your teeth, stopping tooth decay in its tracks while also giving your smile a nice polish!
Nightguards for Bruxism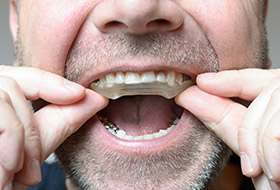 As many as 1 in 3 Americans suffer from bruxism, which is the fancy name for unconscious teeth grinding during sleep. It's usually a response to daily stress, and if left untreated, it can severely wear down and even break the teeth. To help patients rest easy, we recommend that they wear a nightguard to bed, which is a small oral appliance that places a thin but strong barrier between the rows of teeth to prevent any harmful contact during the night.
Oral Cancer Screenings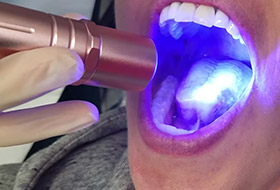 Oral cancer can be very easy to miss during its early stages, leading many patients to not be diagnosed until the disease is quite advanced and not simple to treat. Our skilled team can detect even the slightest hints of oral cancer, which is why we perform a dedicated screening at every routine checkup. We'll examine your mouth for any suspicious sores or growths, and if we find anything, we'll make sure you get the care you need right away.
Fluoride Treatments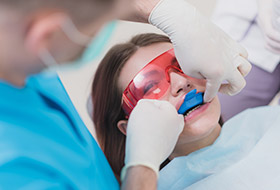 Fluoride is a smile's best friend. Regular exposure to this mineral has been shown to strengthen the teeth and lower a patient's average risk regarding cavities, which is why you'll often find it added to toothpaste and public water sources. To give patients a little more cavity protection between appointments, we can provide a topical fluoride treatment at their regular checkups. It only takes a minute to apply, is completely painless, and it's one of the easiest ways to keep smiles of all ages healthy year-round.
Children's Dentistry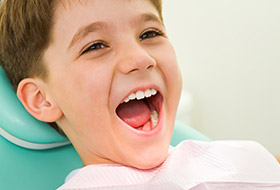 A child's early dental experiences can easily shape how they feel about taking care of their teeth well into adulthood. At Wethersfield Dental Group, we bend over backwards to make sure our younger patients always have a good time at the dentist. We're able to serve children of all ages, from toddlers to teenagers, using treatments that are designed to both prevent cavities and ensure proper oral development. Our goal is to put them on the path towards a lifetime of healthy smiles!
Gum Disease Therapy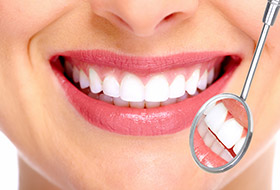 Gum disease is the number one oral health problem around the world, and it's even the leading cause of adult tooth loss right here in the US! Many studies have shown gum disease to be a risk factor for other health problems as well, including diabetes, heart disease, and even dementia. That's why we do gum screenings at every appointment, and if we spot a problem, we have a number of treatments that can eliminate the infection right away.
Learn More About Gum Disease Therapy
Sedation Dentistry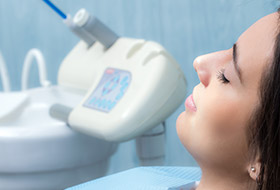 It's very common for patients of all ages to feel a bit anxious about going to the dentist. We strive to always make appointments as comfortable as possible, so for those who need a little extra help to relax in the treatment chair, we're happy to provide sedation dentistry. With either nitrous oxide ("laughing gas") or a prescribed medication, we can help unwanted dental nerves disappear and prevent patients from feeling physical discomfort at the same time.
Sleep Apnea Treatment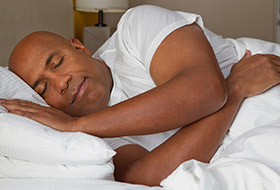 Sleep apnea is a condition that robs over 22 million Americans of their much-needed rest every night, but little do most people know, a dentist can actually provide an effective solution to this serious problem. Dr. Phadnis can design custom-made oral appliances that help keep the airway open during sleep, enabling patients to get the quality rest they need. This approach can also serve as an alternative for patients who are CPAP intolerant, and it's even proven to stop snoring!