July 5, 2020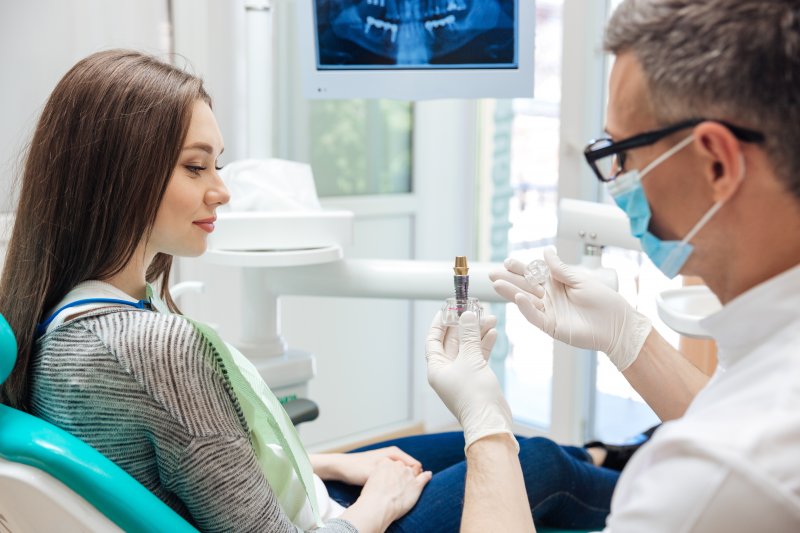 With millions of patients worldwide and a whopping 95% success rate, dental implants are one of the most common restorative treatment options on the market. In fact, the procedure increased by over 6% between 2019 and 2020 alone! However, despite their popularity, there is still a lot of misinformation out there about dental implants. Fortunately, an implant dentist is sharing the truth about four common myths!
Myth #1: Bridges Are Better Than Implants
Although bridges are an effective restorative procedure, dental implants are the superior option for patients looking to repair their smile and bite force. With a bridge, the teeth on both sides of the gap need to be shaved down to successfully hold the structure in place. However, dental implants do not put added stress on the surrounding teeth. In fact, they can actually provide additional support since they are both durable and stable!   
Myth #2: Dental Implants Are Painful
When it comes to dental procedures, many patients are fearful of experiencing discomfort during the appointment and the subsequent recovery. Fortunately, this is just a myth! To ensure you get the treatment you need without sacrificing your wellbeing, your dentist will use a local anesthetic to numb the area. From there, they may offer appropriate medication to keep your pain under control throughout your recovery.
Myth #3: Dental Implants Look Fake
In ancient times, seashells and animal teeth were used as dental implants. Luckily, years of innovations in technology and dentistry have yielded dental implants that are completely customized to your smile. In fact, the implants used today are designed to seamlessly match the size, shape, and color of your natural teeth so they are virtually undetectable.
Myth #4: Bargain Implants Are Recommended If Your Budget Is Tight
When it comes to your smile, there is no room for error. Unfortunately, bargain implant centers promise all the benefits of a high-quality dental implant at a fraction of the cost, which can sound like a dream come true for patients on a budget. However, it is important to be cautious of implanting cheaper products into your jawbone. This can lead to several dental issues in both the short and long run, so it is more cost-effective to choose the top-tier implants from the start.
If you are looking to restore your smile, improve your bite, and perfect your speech, then dental implants may be the solution you've been looking for. With their impressive success rate and natural-looking finish, you can safely achieve your dream smile for years to come!
About the Author
After receiving her undergraduate degree from the University of Connecticut, Dr. Ukti Phadnis earned her Doctor of Dental Medicine from the UConn School of Dental Medicine. Since then, she has continued to stay up to date on the latest in technology and dentistry by taking continuing education courses on everything from dental implants to Invisalign. If you would like to speak with Dr. Phadnis about giving your smile an upgrade, don't hesitate to contact her through her website or by phone at 860-400-3007.
Comments Off

on 4 Myths About Dental Implants That May Surprise You
No Comments
No comments yet.
RSS feed for comments on this post.
Sorry, the comment form is closed at this time.