August 13, 2020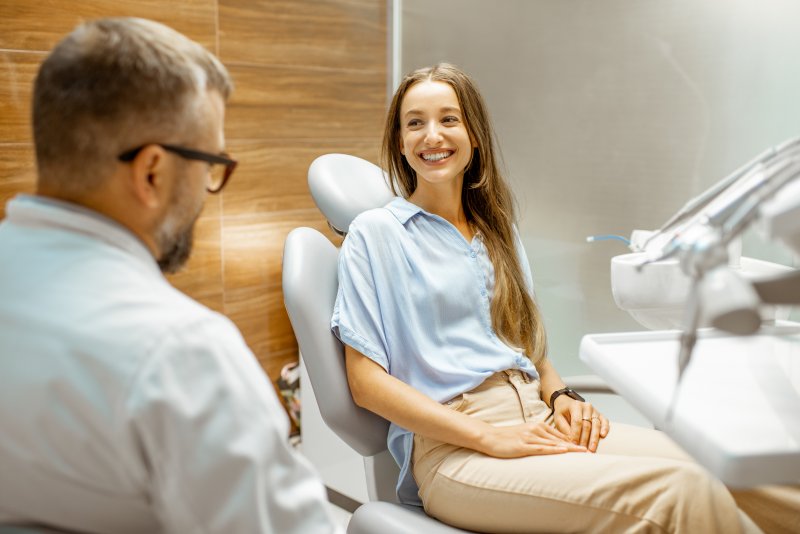 Since you typically spend your time in the treatment chair with a mouthful of tools, it can be easy to leave the talking to your dentist. However, your bi-yearly visits are more than just a quick check for cavities. To ensure your oral and overall health is in pristine condition, it is important to be an active participant at your routine checkups. If you are unsure where to start, read on for four questions you can ask!
#1. How Can I Improve My Oral Health?
For many patients, a solid brushing and flossing routine is the foundation of their oral health. While these two preventive measures do wonders for your teeth and gums, it is important to ask for your dentist's insight into additional practices you can implement. Not only can they provide you with information on specific techniques to effectively remove plaque, but they can also recommend new products that can take your dental care regimen to the next level!
#2. Are There Any Treatments or Procedures I Could Benefit From?
Thanks to innovations in technology and dentistry, patients today can choose from a multitude of options to restore, correct, and otherwise perfect their smile. However, many restorative and cosmetic treatments improve your oral health while simultaneously boosting the functionality and aesthetics of your smile. Therefore, don't hesitate to ask your dentist which procedures you can benefit from!
#3. Is There Anything I Should Relay to My Primary Care Doctor?
Did you know that 90% of health conditions have oral symptoms? With this in mind, your dental team dedicates a portion of your examination to check for warning signs of diabetes, oral cancer, HIV, and osteoporosis (to name a few!). If they notice anything unusual, it is important to relay the information to your primary care doctor to get the early intervention and treatment you need.
#4. When Should I Schedule My Next Appointment?
Typically, it is recommended that patients visit their dentist every six months for a dental checkup and professional cleaning. However, if they suggest a restorative treatment option or you want to enhance your smile with cosmetic dentistry, then they may suggest coming back sooner. To ensure you and your dental team are on the same page, make sure to ask this question before scheduling your next appointment with the receptionist.
Whether your schedule is hectic, or a mouthful of dental equipment has you staying quiet, it is important to remember that your dentist wants you to ask questions. By keeping the dialogue with your dentist open, you can ensure that your oral health remains in pristine condition.
About the Author
After completing her undergraduate degree in Neuroscience from the University of Connecticut, Dr. Ukti Phadnis earned her Doctor of Dental Medicine from the UConn School of Dental Medicine. Today, she stays up to date on the latest advancements in technology and dentistry by completing countless hours of continuing education courses annually. That way, she can provide her patients with effective, long-lasting, and pain-free dental care! If you would like to schedule your bi-yearly appointment, visit her website or give her a call at 860-400-3007.
Comments Off

on 4 Important Questions to Ask Your Dentist
No Comments
No comments yet.
RSS feed for comments on this post.
Sorry, the comment form is closed at this time.