September 29, 2020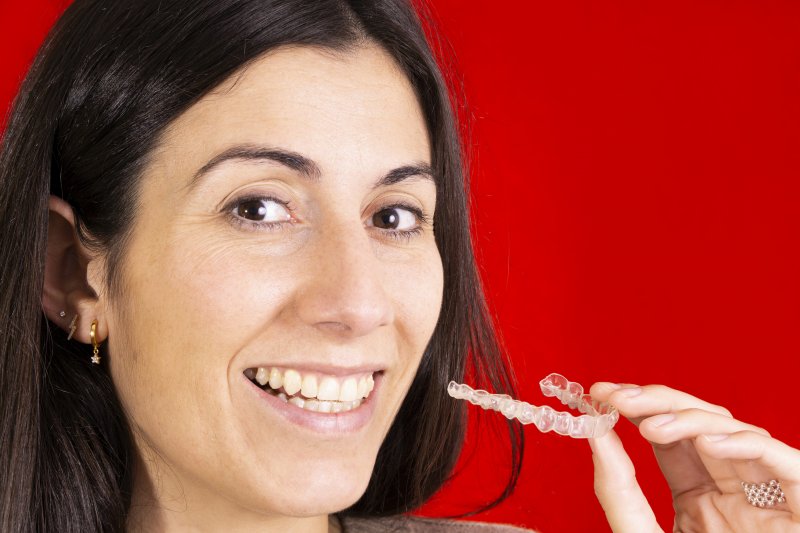 Just like traditional metal braces, Invisalign can straighten your teeth over time by using small amounts of pressure to move them into their new locations. However, Invisalign actually has many different benefits that metal braces do not, making them ideal for certain professions. Not only are they effective, but they are less invasive. Continue reading to learn more about Invisalign benefits and why they are so great for busy adults of different professions.
What Are the Benefits of Invisalign?
Many teens and adults prefer Invisalign over traditional braces for a variety of different reasons. Here are just a few of them:
Easy to Keep Clean: In order to clean your aligners, all you need to do is remove your trays and gently brush them with toothpaste and warm water. You also remove your aligners before you eat or drink anything that isn't water, so they don't tend to get as messy.
No Food Restrictions: You can eat and drink whatever you'd like with Invisalign because they are removable. No need to cut out your favorite foods.
Better Appearance: When you're an adult, you don't want metal braces to stand out when you smile. With Invisalign, it is unlikely that anyone will even know that you're wearing them.
More Comfortable: Even though no teeth straightening option is completely free from discomfort, Invisalign tends to lead to less soreness because the movement of your teeth is more gradual.
Which Professionals Can Benefit from Invisalign?
Even though anyone can benefit from this teeth straighten option, it is especially beneficial for the following:
Entrepreneurs: Did you know that people who smile more are perceived to be more confident and successful? If you're an entrepreneur trying to get your brand off the ground, having a perfected smile that screams confidence can help you get there.
Sales Representative: If you're working in sales, you should know that a smile makes you seem more approachable and friendly. Both of these qualities are important while you're trying to make the sell.
Performers: If you find yourself on stage often for your career, Invisalign is a great option to perfect your smile without having to worry about showing off metal braces for a year or two. They can boost your confidence without repercussions.
If you're looking to straighten your smile, ask your dentist if you'd make a good candidate for Invisalign. With a beautiful smile comes the confidence to excel in your career.
About the Author
Dr. Ukti Phadnis earned her Doctor of Dental Medicine from the UConn School of Dental Medicine. Since then, she has continued to take continuing education courses in a variety of different areas of the field, including Invisalign. For more information on Invisalign clear aligners or to schedule a consultation with Dr. Phadnis at her office in Wethersfield, visit her website or call (860) 400-3007.
Comments Off

on Professionals That Can Benefit from Invisalign
No Comments
No comments yet.
RSS feed for comments on this post.
Sorry, the comment form is closed at this time.