October 2, 2020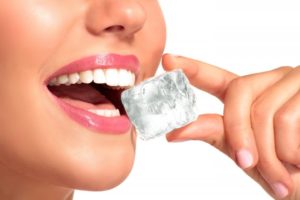 Most of us have habits that we know are bad for us, yet we do them anyway. These things might include smoking, grazing on snacks all day, or letting an entire day go by because you got caught up in your favorite TV show. We're perfectly aware that we shouldn't do these things. However, there are things many of us do all the time that can harm your oral health. Here are five examples of everyday acts that hurt your teeth.
Chewing on Ice
Munching on ice can be a great way to cool down on hot summer days, but it can wreak serious havoc on your smile. Ice is hard enough to crack or chip your tooth, especially if you do it often. To cool off, try sucking on ice instead. If you simply can't resist the temptation to chew it, just order your drinks without ice.
Turning Your Teeth into Tools
Your teeth were made to help you eat and nothing more. Using your teeth as tools to open a package or carry that last bag of groceries up the stairs can fracture your tooth, which can be painful and expensive to treat. Reach for the scissors or make a second trip instead.
Being Clumsy
Some of us weren't born with perfect coordination, and that's okay. But your teeth will be thankful if you get in the habit of watching your step. Carelessly falling and breaking or knocking out a tooth can cost you a pretty penny as well as a lot of time in the dental chair.
Having Oral Piercings
As cool as lip or tongue piercings might look, they're not worth the potential damage to your smile. The metal repeatedly bumping into your teeth can wear down the enamel over time, making you more susceptible to cavities and painful sensitivity. Ear piercings are a much less dangerous way to look stylish.
Not Protecting Your Smile
When you get ready for your daily jog or bike ride, you probably don't think about protecting your teeth from injury. However, even solo activities like these come with a risk of hurting your smile through impact, either with another person, a building, or the ground. To keep your smile safe and intact, ask your dentist about a custom-made mouthguard. This comfortable plastic tray will absorb most of the impact of potential injuries, which could save you a lot of money and pain.
Whether you realize it or not, there are all sorts of everyday acts that hurt your teeth. To make sure your smile stays healthy, don't do these things.
About the Author
Dr. Ukti Phadnis obtained her Doctor of Dental Medicine degree from the University of Connecticut School of Dental Medicine. Every year, she takes extensive continuing education courses in a wide variety of areas of dentistry, such as TMJ therapy, dental implants, and Invisalign. This advanced training allows her to keep up with the latest techniques in dentistry and deliver fast, effective, and painless care. To learn more about how to keep your smile in good shape, contact Dr. Phadnis' office at (860) 400-3007.
Comments Off

on Don't Do These 5 Everyday Acts That Hurt Your Teeth
No Comments
No comments yet.
RSS feed for comments on this post.
Sorry, the comment form is closed at this time.