October 22, 2020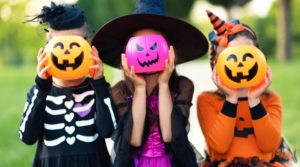 This Halloween is quite different from any that have come before it. Whether you're taking your kids on a socially distanced trick-or-treating outing or simply enjoying some candy with a spooky movie at home, there's another fear that you have to worry about: trying to keep your little ones from getting cavities after eating all of those sweets. At times, this can seem downright impossible, but don't worry. A dentist offers five Halloween candy tips to keep your children's smiles healthy this fall.
Choose Candy Wisely
Not all sweet treats are created equal. For example, chocolate isn't all that harmful since the sugar doesn't remain on your teeth for long. Other treats, like sticky gummies, prolong your teeth's exposure to sugar. Biting down on hard candies could fracture your teeth, and sour, acidic treats can soften tooth enamel.
Look through your children's candy stashes and be selective about what you let them keep. Consider donating the rest to charity.
Discourage Frequent Snacking
Grazing from the candy bowl several times a day could cause cavities. Instead of letting your kids snack all day, save them for after lunch or dinner. At mealtimes, the mouth creates more saliva, which rinses off leftover sugar particles and neutralizes the acids that contribute to tooth decay.
Offer Mouth-Healthy Alternatives
You can help mitigate some of the damage created by your children eating candy by also giving them plenty of tooth-friendly foods. Crunchy fruits and veggies like apples and celery naturally scrub the teeth clean as they're chewed. Low-fat yogurt, cheese, and other dairy products are rich in calcium, which strengthens teeth.
Let Them Chew Sugar-Free Gum as a Treat
After dessert, give your little ones some sugarless gum. Chewing a piece for about 20 minutes after a meal promotes saliva flow and decreases their risk of developing cavities.
Make Sure They're Keeping Their Teeth Clean
No matter how old they are, your children should be brushing their teeth twice a day. Additionally, their toothbrushes should be replaced every three to four months. Look at their brushes; if the bristles are worn or frayed, they won't clean your little ones' pearly whites as effectively.
Of course, there's only so much you can do at home to keep their smiles healthy. Scheduling their checkups before Halloween can ensure they have the preventive care they need. Their dentist can let you know if there's anything else you need to do for smile safety in between appointments.
About the Author
Dr. Ukti Phadnis earned her Doctor of Dental Medicine degree from the University of Connecticut School of Dental Medicine. She enjoys practicing all kinds of dentistry and helping patients of all ages achieve their healthiest smiles. She takes a compassionate and genuine approach to help children have a positive experience at the dentist's office. To learn how you can keep your kids' smiles safe this Halloween, contact her practice, Wethersfield Dental Group, at (860) 400-3007.
Comments Off

on 5 Halloween Candy Tips to Help You Avoid Cavities
No Comments
No comments yet.
RSS feed for comments on this post.
Sorry, the comment form is closed at this time.