December 29, 2020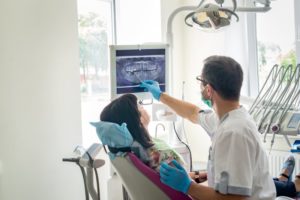 If you've ever found that that visiting your dentist feels like a sort of reckoning day, you're not alone. Many people are intimidated by certain questions that their dentist's may ask them when they visit. It's important to understand that even though your honest answers to the questions may not seem like ones your dentist wants to hear, they still need to know how you've been caring for your teeth so that they can provide the kind of treatment you need. Keep reading to learn about five common questions people tend to struggle being honest with their dentists about.
Five Fibs That Will Never Fool Your Dentist
It is very common for people to feel uneasy at the dentist's office. Millions of people struggle with dental phobia. It doesn't help if you know that you won't have the best "A plus" answers for every question they may ask. Regardless of the responses they get, a person's mouth can answer a multitude of questions without uttering a word. here are seven common fibs that dentists hear, but aren't fooled by:
One: "No, That Doesn't Hurt"
It's common for people to fain that they aren't in pain when a dentist presses down with their dental tool on an area of sensitivity or decay. You probably can't mask pain when it comes to your facial expressions, so in order to help your dentist identify a potential issue, just go ahead and let them know if you feel discomfort at any point.
Two: "Soda – I hardly ever drink it"
While everyone's definition of "hardly ever" may be subjective, even if you don't drink soda every day of the week, your dentist still needs to know if you do. The acid in sodas or other highly acidic beverages can show wear and tear on your enamel over time, which is something your dentist knows to look for.
Three: "I Don't Smoke"
This one is probably a lot more common than you think. Most people who smoke have been told enough times that it's not great for them, they've probably lost count. Smoking is notorious for causing many health issues, and among them is teeth staining. It doesn't take a dentist to notice that!
Four: "I Floss Regularly" Be Diligent About Visiting Your Dentist
This fib might be told innocently simply out of unawareness. Many people don't know that flossing is technically supposed to be done twice a day – once in the morning and once in the evening before you brush. Your dentist can easily spot tartar build-up, which is the result of plaque leftover from not flossing.
Five: "I'm Not A Teeth Grinder"
Like the previous one, this one is often told due to ignorance. If you have headaches often that feel as though they're originating in your jaw or experience severe tooth sensitivity, there's a good chance you're unknowingly grinding your teeth. Let your dentist have a look at your pearly whites to look for signs of enamel wear or jaw strain.
Regardless of whether or not you're the star dental pupil, it's important to be 100% honest with your dentist. Telling them about your normal hygiene routine and habits can help them set a trajectory unique to you for your own personal oral health.
About the Practice
Dr. Ukti Phadnis is passionate about providing high-quality care by educating her patients on the importance of regular dental checkups and defending their oral health. It is extremely important to her to continue her education on a regular basis so that she can keep her dental practice up to date with all of the latest techniques. She loves building long-lasting relationships with everyone she treats. Are you ready to get your teeth in tip-top shape? Request an appointment online or call (860) 400-3007.
Comments Off

on Five Familiar Fibs That Can't Fool Your Dentist
No Comments
No comments yet.
RSS feed for comments on this post.
Sorry, the comment form is closed at this time.