January 25, 2021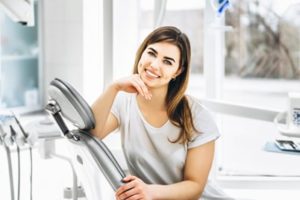 People go on a hiatus from the dentist for many different reasons. Life happens. But if you've made the decision to climb back into the dental chair, it is likely that many things have changed. It can be nerve-racking trying to guess what lies ahead for your first dental checkup in years. Take a breath and try not to stress too much. Here is a list of what you can expect at your appointment.
New Technology
From advanced X-ray machines to modern dental treatments like porcelain veneers, dentistry is always changing. If you're aiming to straighten your teeth, Invisalign clear aligners offer a convenient alternative to traditional metal braces. If you're looking for quicker results and whiter teeth, porcelain veneers may be right for you. During your dental checkup, you can discuss your dental goals with your dentist, and they can help you decide on a plan to help you achieve them.
An Extensive Dental Exam
During your first visit back to the dentist, your doctor will need to perform a thorough oral exam. They will inspect your lips, gums, cheeks, tongue and teeth for any dental infections or decay. They will also check your bite and jaw function to see if you have any misalignments or issues. You will also need a new set of X-rays, which will provide your dentist with a closer look at any issues that may not be easily visible. This includes abscesses, cysts or cavities that may be hidden between your teeth.
Dental Cleaning
A cleaning is important to your dental visit. If it has been more than 6 months since your last visit, it is very likely that you have extensive tartar buildup on your teeth and below the gum line. Tartar is hardened plaque that cannot be removed with regular brushing. Your dentist or hygienist will use special tools to remove it as well as any plaque and bacteria that you may have.
Your Dental Treatment Plan
If you have cavities, broken teeth or the beginning of gum disease, your dentist will take time at the end of your appointment to explain their findings. They will also recommend a plan of action to get your dental health back on track and help you achieve any dental goals you may have. If there are any treatments you're not clear on or have questions about, this is the perfect time to say so.
Your dentist wants to help you restore your dental health, so the last thing you have to worry about is them judging you. It is never too late to get the bright, beautiful smile you deserve, and your dentist is there to help you achieve it.
About the Author
Wethersfield Dental Group is committed to providing patients with quality dental care in a comfortable environment. Dr. Ukti Phadnis and her team take pride in not only treating dental problems, but also providing patients with the right information to help them practice proper oral hygiene even after their dental appointment has ended. If you're ready to get your smile back on track, visit the website or contact the office at (860) 400-3007 to schedule an appointment today.
Comments Off

on What to Expect During Your First Dental Checkup After Years Away
No Comments
No comments yet.
RSS feed for comments on this post.
Sorry, the comment form is closed at this time.