February 25, 2021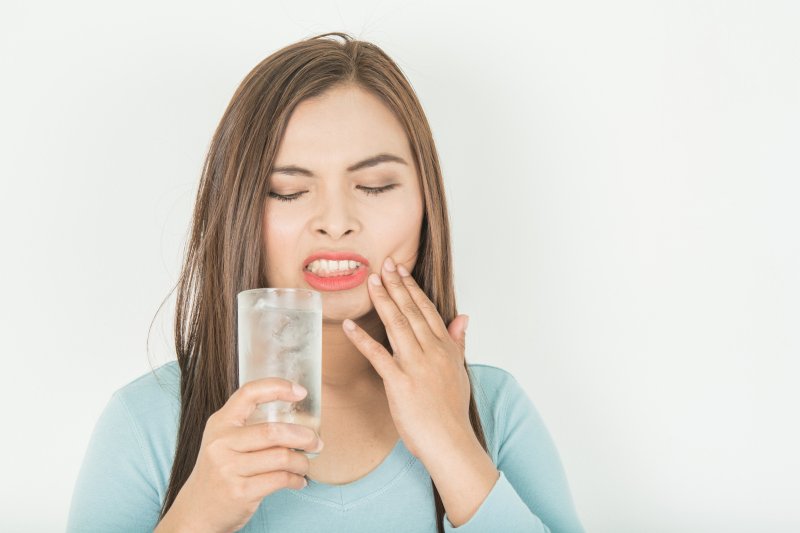 Do you ever sip on your iced tea or hot coffee and end up with a sharp pain in your mouth? You are probably dealing with sensitive teeth. This is a very common issue that people deal with. A survey of dental offices suggests that one in eight people suffer from tooth sensitivity. This can be caused by a variety of different reasons and isn't necessarily a dental emergency. Many people are able to get relief from choosing a desensitizing toothpaste, but how does this work? Continue reading to learn more about it and some tips for choosing one.
What Causes Tooth Sensitivity?
Beneath your protective enamel, there is a sensitive layer of tooth known as the "dentin." When this becomes exposed, you are likely to experience increased pain and sensitivity in the mouth. Most of the time, this is cause by worn tooth enamel or exposed tooth roots. Sometimes, it is a result of cavities, chipped teeth, a worn filling, or periodontal disease. It is important to see your dentist in order to rule out any serious issues before you look for other solutions, like a desensitizing toothpaste.
How Does Desensitizing Toothpaste Work?
When a tooth's nerve becomes exposed via tiny tubules, it becomes sensitive to different conditions, like temperature and sweetness. These ingredients in desensitizing toothpaste work by making their way into the tubules where they can block the transmission of pain. This helps to provide lasting relief for the user, though it may take a few weeks to notice a difference.
How Do You Choose a Toothpaste for Sensitive Teeth?
Here are a few tips to keep in mind when it comes to choosing a sensitivity toothpaste:
Check the label for active ingredients. You want to ensure that the toothpaste caters to people who have sensitive teeth.
Make sure that you are choosing a brand that you know and trust. You could even do some research beforehand to see which is most effective and reliable.
Don't be spending top dollar on a toothpaste when you aren't even sure how much you will like it. Many sensitivity toothpastes are around the same price as normal ones.
Look for the American Dental Association (ADA) Seal of Acceptance. This means that the product has been scientifically evaluated by independent experts to ensure that it is safe and effective. Often times, this means that the product is meeting higher standards than what the law requires.
Tooth sensitivity is frustrating, but you don't need to deal with it. By seeing your dentist and choosing the right toothpaste for you, you are likely to experience some relief.
About the Author
Dr. Ukti Phadnis earned her Doctor of Dental Medicine from the UConn School of Dental Medicine and is committed to taking continuing education courses in order to keep her knowledge and skills sharp. If you are struggling with tooth sensitivity, she would be happy to help you get some relief. For more information or to schedule an appointment at her office in Wethersfield, visit her website or call (860) 400-3007.
Comments Off

on How Does Desensitizing Toothpaste Work?
No Comments
No comments yet.
RSS feed for comments on this post.
Sorry, the comment form is closed at this time.