March 4, 2021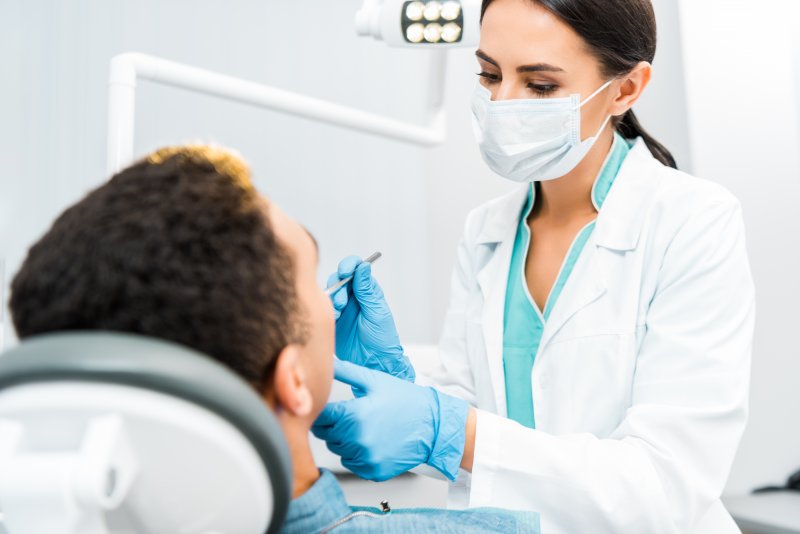 OUCH! Your at-home movie night quickly turns into a panic-filled evening when your teeth come down hard on an unpopped popcorn kernel. A quick glance in your mirror confirms your initial suspicion: your tooth is cracked. The next step? Visit an emergency dentist.
Dental injuries can strike at a moment's notice and seem to always happen at the most inconvenient times. If you find yourself in this situation, keep reading to learn how to find an emergency dentist when you need one most!
What Is a Dental Emergency?
Before sharing the must-know tips for finding a skilled, trustworthy emergency dentist, it is important to understand what a dental emergency is. While all dental injuries necessitate a visit to your dentist, some are more urgent than others. For example, a cracked or knocked-out tooth requires immediate attention, while a new toothache can wait until the morning. Other common dental emergencies include facial swelling, soft tissue injuries (like a bitten tongue), and a dislodged crown or filling. If your injury results in potentially life-threatening symptoms, however, like difficulty breathing or a fractured jaw, then you should head to your local ER right away.
Tips for Finding an Emergency Dentist
Handling a dental injury can be anxiety-inducing. To make finding the fast, effective relief you deserve straightforward, here are a few tips for finding an emergency dentist as quickly as possible.
Start by calling your dentist. Even if it's outside of their standard business hours, many dental teams have specific instructions on their voicemail of what to do in an emergency situation. Whether they have a designated hotline for occasions like these or step-by-step instructions on what to do next, this is a great place to start.
Search Google. Typing "emergency dentist near me" into Google will provide you with page after page of skilled dentists in your area that have helped countless patients in your situation throughout the years.
Use the ADA dentist locator tool. If you are out of town, using the American Dental Association's online tool can help you find a certified dentist close by.
Head to your local ER. If you cannot get ahold of a dentist nearby and are experiencing severe oral pain, consider heading to your local ER. Although they likely won't have a dental professional on staff, they can help you manage the pain and ensure there are no other complications (like a fractured jawbone) present.
Dental emergencies can be painful and stress-inducing, which is why restoring the function and look of your teeth is a top priority. Fortunately, the above tips can help you find the fast, effective treatment you are looking for when you need it most!
About the Author
Since earning her Doctor of Dental Medicine from the UConn School of Dental Medicine, Dr. Ukti Phadnis has helped countless patients enjoy a pain-free smile again. She has undergone extensive training in everything from dental implants to TMJ therapy, allowing her to provide fast, effective treatment for all kinds of dental injuries. If you are currently looking for an emergency dentist or are simply interested in scheduling an appointment, don't hesitate to visit her website or give her a call at 860-400-3007.
Comments Off

on How to Find an Emergency Dentist When You Need One ASAP
No Comments
No comments yet.
RSS feed for comments on this post.
Sorry, the comment form is closed at this time.